About Ambergris Caye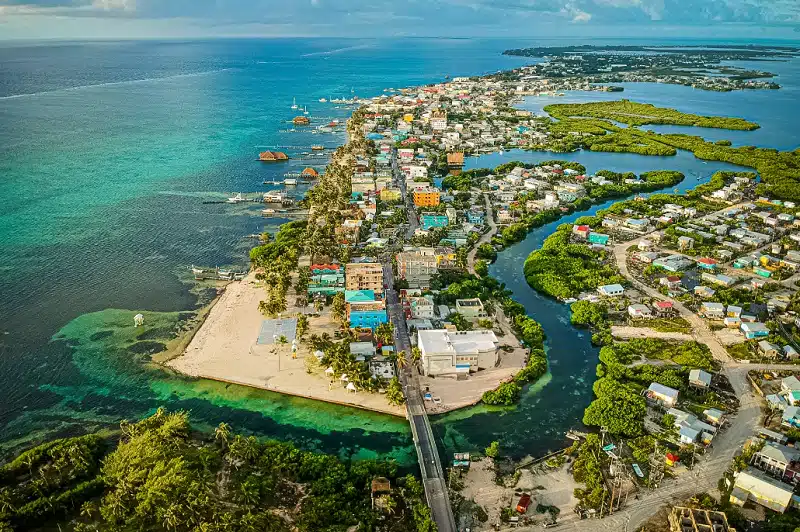 No matter how visitors arrive to Ambergris Caye (key), whether by boat or small airplane, I always hear exclamations: "Oh the blues of the Caribbean Sea!" "What cute colorful houses!" "The people are so nice!"  All true. From the central core of little San Pedro Town to either southern or northern ends of this 27-mile long slice of paradise, there is much to enjoy and appreciate. "Unspoiled" is the other description I hear as people rent golf carts or climb onto heavy 'beach cruiser' bicycles to ride along rustic roads or assorted paved streets. The gradual development of this primitive fishing island into a popular tourism destination leaves plenty of unchanged scenes of simple Central American family life mingled with upscale accommodations and contemporary services.
Only 1 mile wide in its broadest places, Ambergris Caye offers views that amuse ("Look!  Dolphins!")  and adventures to choose. The incredible Belize Barrier Reef draws divers and snorkelers and fishermen to find quests under the sea. Beaches, resorts and spas all over the island invite others to just rest and relax amid waving palm trees. The spirit of opposites holds many types of charms here, so while modern amenities are abundant, so are opportunities to learn about the ancient Maya inhabitants or discover spectacular nature, from corals and sea creatures to colorful birds and bugs. All of this exploring creates thirst and appetites! The bars, restaurants, and clubs serve delicious rum drinks or fresh fruit juices with local tortilla meals or street-grill BBQ's. Just as available are reservations at highly rated fine cuisine restaurants.
Whatever your interest, energy, and inspiration, Ambergris Caye can match it, leaving you with the desire to make it a part of the rest of your life.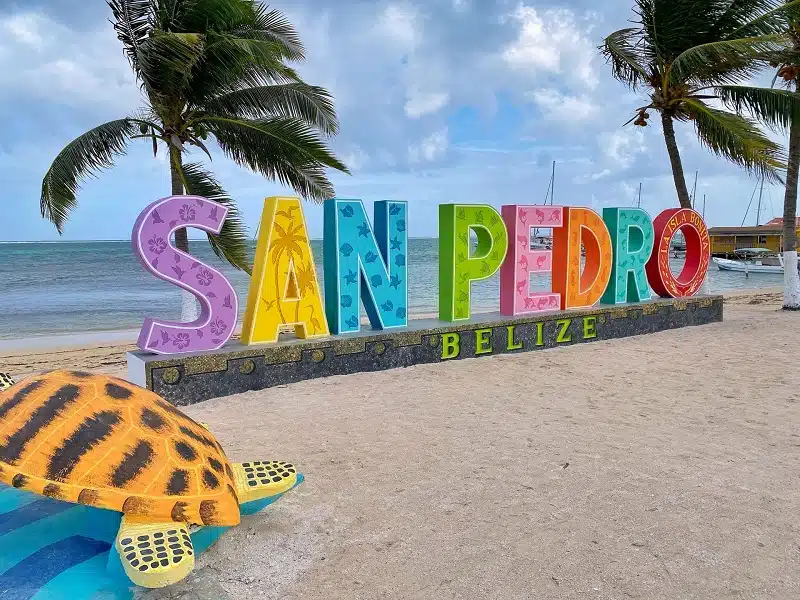 Top 10 Facts about Ambergris Caye
Ambergris Caye is the largest island in Belize and is known for its gorgeous beaches, crystal-clear waters, and abundant marine life.

The island is part of the Mesoamerican Barrier Reef System, the second-largest coral reef in the world, which makes it a popular destination for snorkeling and scuba diving enthusiasts.

The island's economy is driven by tourism, with many resorts, hotels, and restaurants catering to visitors from around the world.

Ambergris Caye is home to a diverse population of flora and fauna, including over 500 species of fish, as well as dolphins, manatees, and sea turtles.

The island has a rich history, having been inhabited by the Maya people, Spanish conquistadors, and British colonizers throughout its history.

The primary language spoken on the island is English, although Spanish and Creole are also commonly spoken.

The island is serviced by two airports, with flights arriving from major cities throughout Central America and the Caribbean.

The main mode of transportation on the island is by golf cart or bicycle, although water taxis and boats are also commonly used.

The island has a vibrant arts and culture scene, with many local artists, musicians, and performers showcasing their work at festivals and events throughout the year.

Finally, the people of Ambergris Caye are known for their warmth and hospitality, making it a welcoming and inclusive destination for visitors from all walks of life.