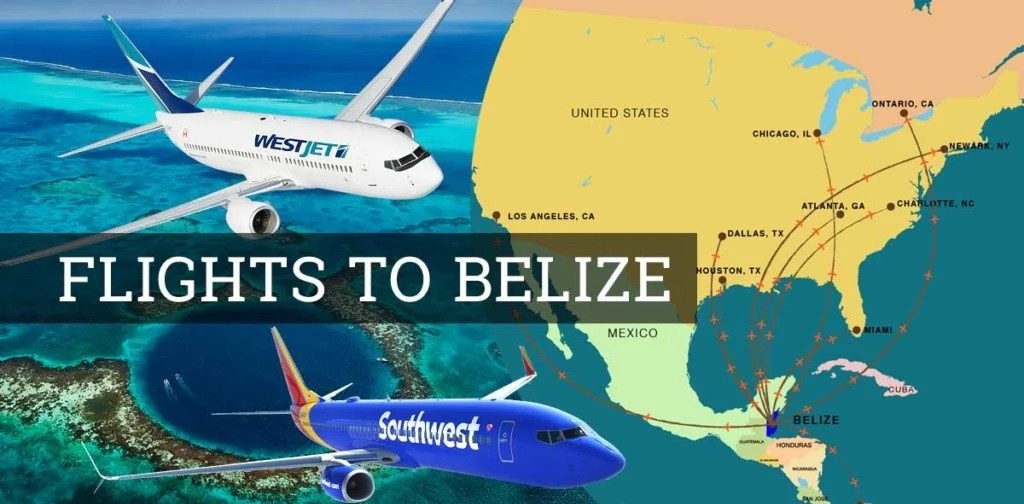 Airlines Flying To Belize from Nov 2022 to April 2023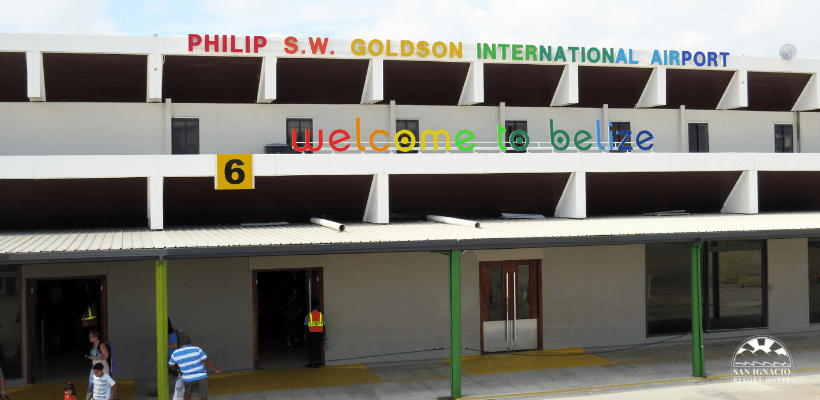 Located in Belize City, the Philip S. W. Goldson Airport (PGIA), travel code BZE, is the only international airport in the country. From the moment that you disembark the plane onto the tarmac, you know you're not in Kansas anymore. The tropical warmth and bird song let you settle into your Belize holiday at once.
It's never too late to start exploring the world or planning a vacation. More air carriers are traveling internationally than ever, even if you're looking for low-cost airlines. Here are some top airlines flying to Belize from Nov 2022 to April 2023.
1. WESTJET
WestJet operates flights from three Canadian cities, Calgary, Toronto, and Vancouver, to Belize. There are several flights per week from each town. WestJet flies various aircraft, including the Boeing 737-800 and 737-600 narrow-body jet airliners, which seat up to 140 passengers per flight.
2. AIR CANADA
Air Canada is the flag carrier and largest airline in Canada by passenger traffic and the second-largest by fleet size. With a fleet of over 250 aircraft, Air Canada provides service to over 160 destinations in North America, Central America, the Caribbean, Europe, and Asia.
Starting December 4th to April 30th, Air Canada will offer direct flights from Toronto to Belize.
3. SUN COUNTRY AIRLINES
Minnesota-based Sun Country Airlines is a United States airline based in Eagan, Minnesota. The airline operates scheduled and charter flights to 23 North American destinations, including Calgary, Toronto, and Vancouver.
Starting in December 2022, SunCountry Airlines will offer direct flights from Minneapolis to Belize.
4. SOUTHWEST AIRLINES
Southwest Airlines Co. is a primary U.S. low-cost carrier headquartered in Dallas, Texas. The airline has more than 3,800 employees and operates about 4,000 flights daily during the peak travel season. The airline flies 43 million passengers annually to 100 destinations in 40 states and five countries under the Southwest Airlines brand.
Southwest Airlines offer direct flights to Belize from these US cities: Denver and Houston. You can also take advantage of connecting service through Houston from Chicago, Dallas, Los Angeles, New Orleans, Oakland, San Antonio, San Diego, and many other US cities that are serviced by Southwest.
5. FRONTIER
Frontier operates flights from Denver and Milwaukee to Belize and several other cities across the United States. There are a couple of flights per week from each market. The airline operates three Airbus A319 narrow-body jet airliners.
6. UNITED AIRLINES
Belize is one of many global destinations served by United Airlines. You can fly with United from Chicago, Denver, Houston, Los Angeles, Newark, New York City, San Francisco, and Washington D.C. to Belize.
7. DELTA AIR LINES
Delta operates direct flights to Belize from Atlanta, Georgia. Delta also offers direct flights from Los Angeles to Belize during the high tourism season.
Recently, Delta Airlines has sought to upgrade its fleet of planes to fuel efficiency and comfort.
8. COPA AIRLINES
Copa Airlines is Panama's national airline. It offers direct flights from Panama to Belize. Copa has been flying since 1960 and has become the largest airline in Central America.
9. AMERICAN AIRLINES
American Airlines is an excellent airline for any traveler looking for a flight to Belize. American Airlines offers daily flights to Belize from Miami, Florida, or Dallas, Texas.
10. ALASKA AIRLINES
Alaska's service to Belize operates four times a week between Los Angeles and Belize City (BZE) and twice weekly between Seattle and Belize City – just in time for the holiday season.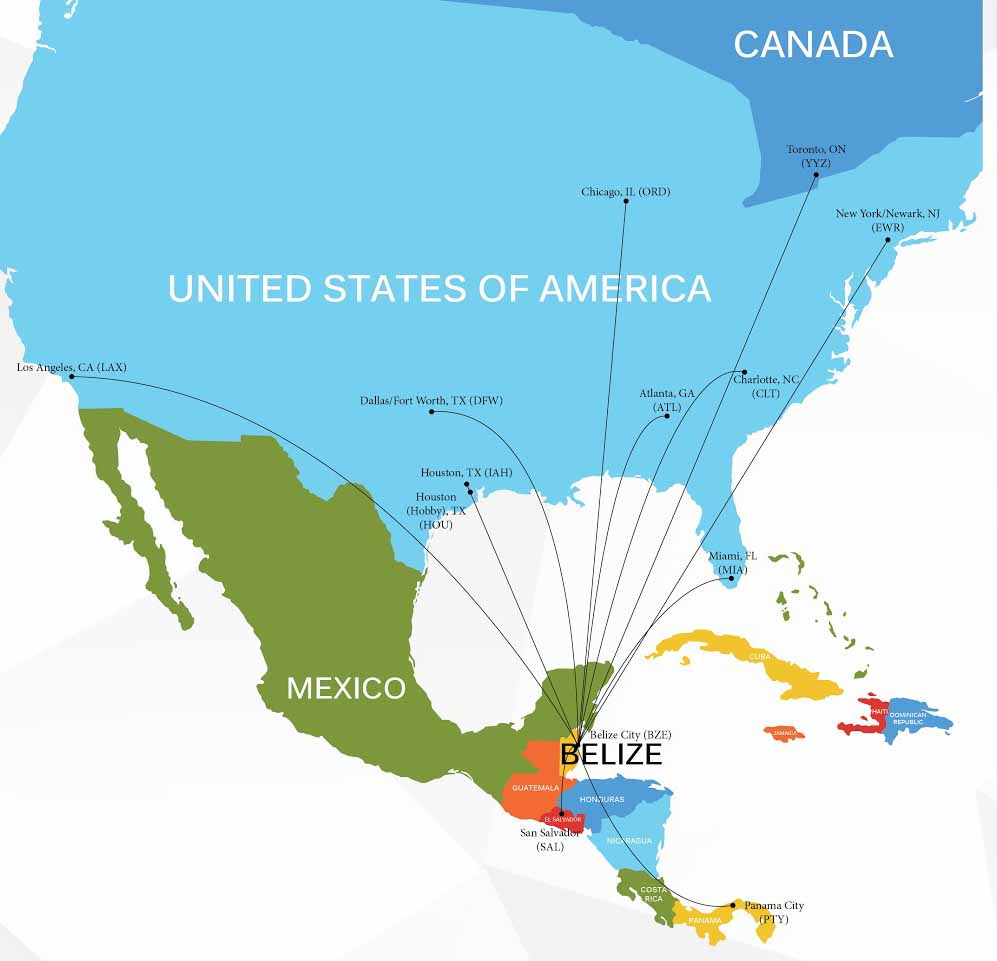 Paradise might not be as far away as you think. The tropical country of Belize is within close reach of both the United States and Mexico thanks to its position in Central America, and there are plenty of strong reasons to visit. Over 400 islands and the world's second-largest barrier reef are located in the Caribbean Sea directly off of Belize's coast, and that's not taking into consideration the lush and beautiful interior. Getting a flight to Belize is rarely too expensive and almost never a hassle. All direct flights come into Philip Goldson Airport, but you can always take transfers from the capital city to smaller destinations like Caye Caulker, San Ignacio Town, and San Pedro. Here's everything you need to know about flying into paradise this year.
US to Belize – American, Delta, Southwest, and United Airlines all offer non-stop direct flights from U.S. cities to Belize — and these four airlines do a decent job of covering most American airport hubs. While the major cities of the American Southeast, East Coast, and California are largely covered, you may have to arrange for a connecting flight if you live in the Pacific Northwest or flyover states. Many of these flights are offered all year long, while others cease outside the winter months that serve as Belize's peak tourist season. Expect flights to take between two and five hours depending on where you depart. • Atlanta, GA — Delta • Charlotte, NC — American • Chicago, IL — United • Dallas, TX — American • Denver, CO — Southwest, Frontier Airlines • Fort Lauderdale-Hollywood, FL — Southwest • Orlando Florida, Frontier Airlines • Houston, TX — Southwest, United • Los Angeles, CA — American, Delta, Alaska Airlines • Miami, FL — American • Newark, NJ — United • Seattle, Washington — Alaska Airlines
Canada to Belize – Direct non-stop flights are less common in Canada, but both WestJet and Air Canada offer seasonal flights that run from November to April. Unfortunately, your options are a little more limited than flying from America, as flights are only offered from Toronto and Calgary. In both cases, you can expect to be in the air for five to six hours. • Calgary, AB — WestJet • Toronto, ON — Air Canada, WestJet
Central America to Belize – It makes sense that there would be a huge number of flights into Belize from their neighbors in Central America. Four major airlines provide direct flights to Belize. One of the most prominent — Tropic Air — is also a domestic airline that can offer transfers to smaller airports in Belize. • Cancun, Mexico — Tropic Air • Flores, Guatemala —Tropic Air • Guatemala City —TAG • Panama City, Panama — COPA Airlines • Roatan, Honduras — Tropic Air • San Salvador — Avianca Airlines
Europe to Belize – There are no direct non-stop flights from Europe to Belize at the moment, but your best chance of having the shortest flight possible is to fly out of Heathrow in London. Their direct flight is broken up only by a brief stop in Miami. Otherwise, you can connect to a flight in the United States, Canada, or Central America.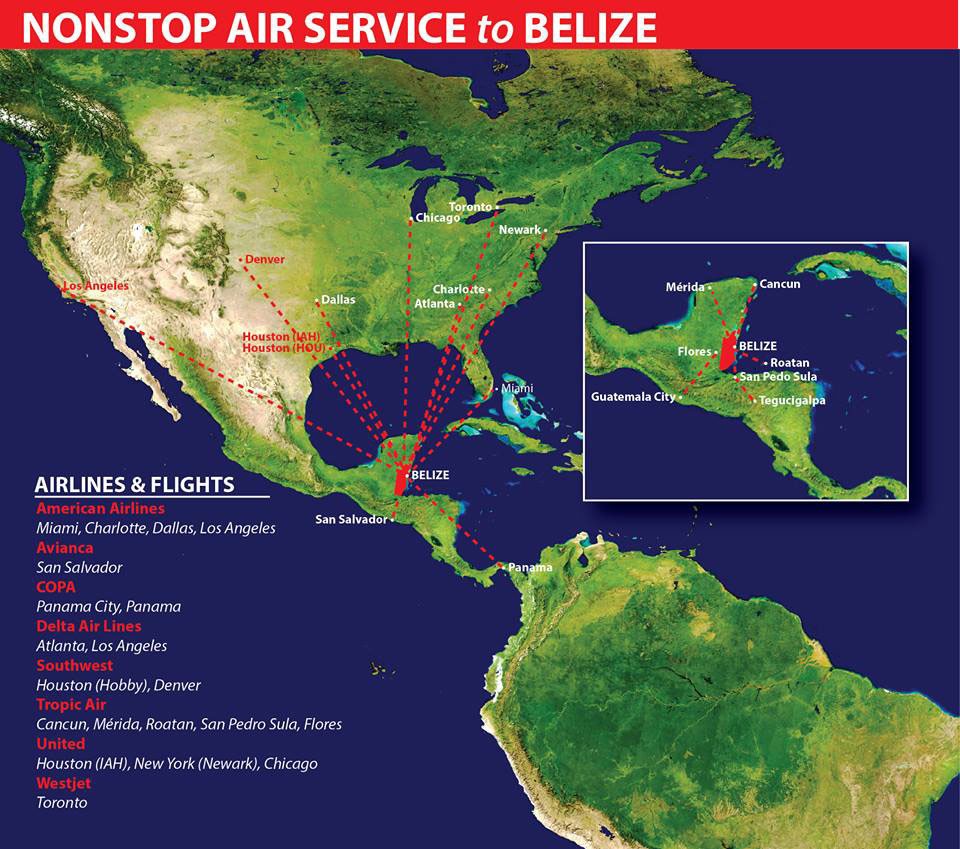 Airline Information & Useful Links
1. AeroMexico www.aeromexico.com
2. Air Canada www.aircanada.com
3. American Airlines www.americanaairlines.com
4. Avianca www.avianca.com
5. COPA www.copaair.com
6. Delta Airways www.deltaaairlines.com
7. Southwest www.southwest.com
8. Sun Country Airlines www.suncountry.com
9. United Airlines www.united.com
10. WestJet www.westjet.com
Taxi Information
The Ladyville Airport Taxi Association operates the taxi service at PGIA. Service is available for transportation to Belize City and other destinations throughout Belize and can be reached at 225-2125 or 610-4450. Conveniently located immediately at the exit to the International Arrival Hall is an Airport Taxi Counter where tickets can be purchased.
Car Rentals Information & Useful Links
1. A-Class Auto Rental: (501) 205 – 2201 + (501) 600–2201 [email protected]
2. All-In-One Travel Agency: (501) 620–2267 [email protected]
3. AQ Auto Rental: (501) 222–5122 + (501) 225–3055 [email protected]
4. Avis: (501) 225–4400 [email protected]
5. Crystal Auto Rental: (501) 223–1600 [email protected]
6. Discount Auto Rental: (501) 225–3019 [email protected]
7. Discovery Belize Expedition Limited: (501) 671-0748 [email protected]
8. Explore Belize Auto Rental: (501) 627–2709 [email protected]
9. Hertz/Safari Belize: (501) 225–3300 [email protected]
10. Jabiru Auto Rental: (501) 224–4680 + (501) 225–3630 [email protected]
11. Jay Crafton: (501) 223-1600 [email protected]
12. JMA Budget Rentals Ltd.: (501) 223–2435 [email protected]
13. National Alamo Rent A Car: (501) 225–2882 [email protected]
14. Pancho's Auto Rental: (501) 225–2540 [email protected]
15. TC Paradise Auto Rental: (501) 615-4993 + (501) 630-0488 [email protected]
16. Thrifty Auto Rental: (501) 225–2436 + (501) 610–4450 [email protected]
17. Tour Auto Belize Limited: (501) 207-1271 [email protected]
18. Vista Auto Rental: (501) 225–2292 [email protected]