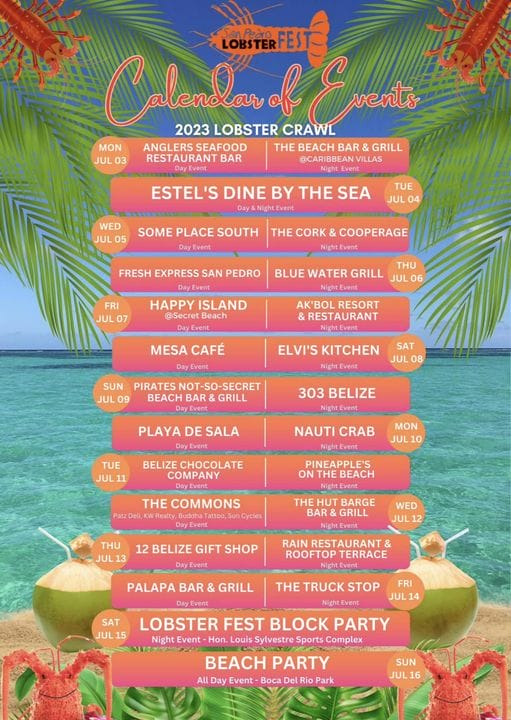 Lobsterfest in San Pedro, Belize: A Celebration of Coastal Delights
Introduction
Lobsterfest in San Pedro, Belize, is an annual event that captivates locals and tourists alike with its delectable seafood offerings and vibrant coastal atmosphere. Celebrated in the charming town of San Pedro, located on the beautiful island of Ambergris Caye, this festival showcases the region's most cherished delicacy, the Caribbean spiny lobster. From tantalizing culinary experiences to lively entertainment and cultural displays, Lobsterfest is an unforgettable celebration that highlights the rich maritime heritage of Belize. In this article, we will explore the origins, attractions, and culinary delights of Lobsterfest, offering a comprehensive guide for those eager to experience this extraordinary festival.
Origins and Cultural Significance
Lobsterfest originated in San Pedro, a picturesque coastal town on the eastern shore of Belize. The festival's roots can be traced back to the local fishing community, which greatly relies on the abundant lobster population that thrives in the surrounding Caribbean waters. This event pays homage to the traditional lobster fishing industry and celebrates the vital role it plays in the local economy.
The festival's cultural significance lies in its ability to bring together the community and visitors to appreciate and savor the ocean's bounty. It provides an opportunity to showcase the rich maritime heritage of Belize, fostering a sense of pride and unity among locals. Furthermore, Lobsterfest promotes sustainable fishing practices and educates attendees on the importance of preserving the delicate marine ecosystem.
Attractions and Activities
Lobsterfest offers an array of attractions and activities that cater to diverse interests. The festival spans several days and features a variety of events, ensuring there's something for everyone. The main activities include:
Culinary Delights: The star of Lobsterfest is undoubtedly the mouthwatering array of lobster dishes. From grilled lobster tails and lobster ceviche to lobster pasta and lobster burgers, the festival showcases the versatility of this delectable crustacean. Local chefs and restaurants compete to offer the most creative and scrumptious lobster recipes, guaranteeing an unforgettable culinary experience.
Live Music and Entertainment: Lobsterfest is a celebration of Belizean culture, and live music performances are an integral part of the festivities. Visitors can groove to the rhythms of Caribbean and Latin music, performed by talented local artists and bands. The festival also hosts dance performances, cultural displays, and art exhibitions, providing a vibrant and immersive experience.
Beach Parties and Water Activities: With its stunning coastal location, Lobsterfest embraces the natural beauty of San Pedro. Beach parties, complete with music, dancing, and beach games, create a lively atmosphere. Water enthusiasts can enjoy snorkeling, diving, and fishing excursions, exploring the diverse marine life that thrives in Belize's crystal-clear waters.
Street Fair and Craft Markets: The streets of San Pedro come alive during Lobsterfest, as local vendors set up stalls offering a wide range of goods. From handcrafted souvenirs and artwork to traditional Belizean cuisine and refreshing beverages, the street fair is a treasure trove for those seeking unique keepsakes and flavors.
Culinary Experiences and Food Contests
Lobsterfest showcases the culinary talents of local chefs, providing an opportunity for visitors to indulge in an exquisite lobster feast. Throughout the festival, numerous restaurants feature special lobster menus, presenting their unique twists on classic recipes. From elegant fine dining establishments to laid-back beachside eateries, there is a dining option to suit every preference and budget.
In addition to savoring the delectable lobster dishes, visitors can also participate in various food contests. These contests invite both locals and tourists to showcase their culinary skills by preparing and presenting their favorite lobster creations. The contests are judged by a panel of experts, who evaluate the dishes based on taste, presentation, and creativity. The winners receive recognition and prizes, adding an exciting competitive element to the festivities.
Sustainability and Conservation Efforts
Lobsterfest is not just about indulging in sumptuous seafood; it also promotes sustainable fishing practices and environmental conservation. The festival partners with local conservation organizations to raise awareness about the importance of preserving the marine ecosystem. Through educational programs and interactive exhibits, attendees learn about responsible fishing techniques, the role of marine protected areas, and the significance of maintaining a healthy lobster population.
Lobsterfest organizers prioritize using sustainable seafood sources, ensuring that the festival's culinary offerings align with responsible fishing practices. By emphasizing sustainable practices, the festival serves as a model for other communities and encourages visitors to make conscious choices in support of a healthier environment.
Conclusion
Lobsterfest in San Pedro, Belize, is a celebration that combines culinary delights, cultural experiences, and a commitment to sustainability. This annual festival serves as a vibrant testament to the coastal charm and maritime heritage of Belize. Whether you are a seafood enthusiast, a lover of music and entertainment, or an advocate for environmental conservation, Lobsterfest offers an immersive and unforgettable experience. Join the festivities, indulge in mouthwatering lobster dishes, and immerse yourself in the rich culture and natural beauty of San Pedro.